Download a printable copy of the 10,000-Year Calendar in the format that you prefer:


New 100-Year Perpetual Calendar! Click Here!
(Make your left and right margins 0 (zero) inches!!!)

Spreadsheet and Adobe Acrobat versions converted by amateur genealogist John A. Blair.

Czech language version translated by kalendar.beda.cz.




More Charts

Use Up/Down scroll buttons to specify the 100-year span of the calendar, and then print! You will easily be able to view the monthly calendar for any year & month for 100 years - without a computer!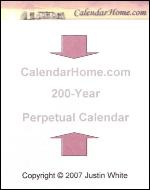 Created as an Excel spreadsheet, this calendar has fourteen whole-year calendars A through N and a chart showing which years 1882 through 2101 go to which letter. The print is small yet readable printed 8.5 x 11, but this was really made to print as a poster. If you don't have access to a printer that will print poster size you may want to take the .xls file to your local print shop. We now have a version with all black text!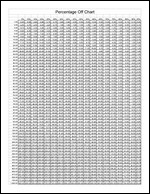 Percentage Off Chart (pdf) Not calendar-related, but use this chart to quickly estimate the new price if something is "x percent off". This is a PDF file.